Hello! It has been a while since I started dreaming out loud here. We never did build a big shop or utilize solar here, and I have no regrets in that regard. We are quite down in the big trees, and this is not our "forever" home.
I self installed some Pioneer split mini heat pumps, and those worked well for us.
We recently purchased property in the Olympic Rain shadow between Port Angeles and Port Townsend. It is not ideal, sitting on a north facing slope and with some tree shadows, but nothing like the home we are selling.
The area has some great numbers for sun, for western PNW.
I plan on a south facing modern roof system with clerestory windows and the good passive overhangs to mitigate summer heat and maximize the heating season collection. Example image: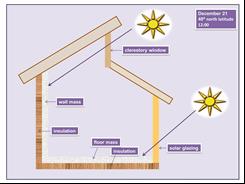 My new plan is to space the clerestory windows out, or simply have areas without windows, such as bedrooms and the like.
This gives me some vertical wall space for the solar hot air collectors, protected under a nice overhang. I would build a chase into the house from the roof down to the crawlspace for ducting and solar panel wiring.
The hot air would either heat the home or heat up some heat mass in the crawlspace, in the form of washed rock in an insulated storage box.
The same chase would service some drainback water collection panels, that would deliver to a pre-heat water tank in front of a small conventional water heater. My feels are that a decent size preheat tank in front of a conventional well insulated water heater would pencil out nicely for return on effort and investment.
The roof would get covered with grid tied solar panels, except for a couple of dedicated DC panels.
Those would charge a small bank of batteries.
I would wire the house with DC lighting. This way the lights would simply work in a power outage.
I would also install a ~1500 watt inverter and automatic transfer switch to protect the fridge and freezer in an outage. There would be a couple of inverter powered outlets for small loads in an outage.
I'd rather not go the whole house genset and transfer switch for what would be an occasional need. I do like the idea of DC lighting because it cuts the corner of LED lighting that has individual conversions at the bulb level. Just build it for 24V or 48V and there are bulbs and lighting options available.